Shield NW are the industry leader in the manufacture, sale and installation of security doors, sash windows, panic rooms and garage doors.  Every one of our products is designed to enhance and augment the security of your home without turning it into a fortress.
Shield NW & Products Overview
Shield Security Doors on BBC World News
Shield NW – Security Doors, Windows and Panic Room Specialists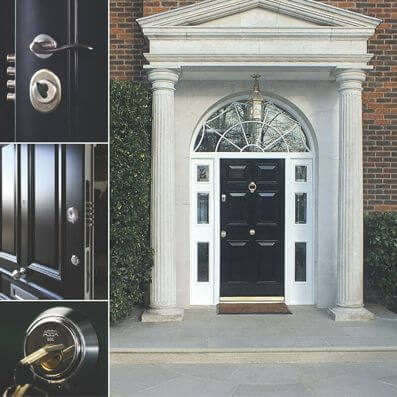 It is a sad fact that crimes against householders and businesses are on the rise. Statistics tell us that there is a crime committed every minute of every day. In addition to this the type of crime is becoming more violent, with people being subjected to horrific acts of violence as a means to get access to their property and valuables. With all of the Governments cuts that are being imposed on the Police, it is highly likely that these types of crimes will rise. It is imperative that you do what you can to avoid becoming a victim.
A frightening statistic – 80% of all burglaries are committed through doors.
To help you avoid becoming one of these statistics, we are proud to offer the ultimate in door security, SHIELD doors. Our doors are the toughest available on the market, but this high level of fortification does not compromise on beauty. Our doors are all individually designed and also provide the ultimate in style. From traditional designs to the most beautiful contemporary finishes, our doors are can be found on some of the most beautiful properties in the UK. From mansions to terraced houses, from listed buildings to modern new builds, from office blocks to shop fronts, we have a security door solution for every property and every budget.
Innovative Products
Our doors and windows are built using world class and innovative materials and locking systems. Designed using the latest technology and built by hand you can expect maximum security combined with a high end, beautifully designed product.
Consultative Approach
We not only supply products – we provide specialist advice and assistance to help you decide the best levels and locations of protection. This is based on our years of experience providing high end physical security solutions.
Customer Focused
We work closely with our clients to ensure we provide you with exactly what you need from a security perspective, whilst merging our security solutions into your existing surroundings.
Discreet Service
We guarantee 100% confidentiality to all of our clients. Details of enquiries and projects will not be discussed or shared with any other individual or third party. To protect from unwanted interest  from neighbours our vehicles are plain, so will not draw any unnecessary attention.
What to Expect From Shield NW
There is a perception that doors and windows that offer this level of protection are ugly and industrial looking.
This is not the case with our products, not only can we provide the maximum level of security required to give you the time needed until help arrives, we can design and manufacture doors and windows to fit in with your existing decor and surroundings.
Strength does not mean a lack of style, our incredible range provide not only impressive intruder protection, but also impeccable style.
Whilst electronic alarm and CCTV systems generally act as an excellent deterrent, they do not provide a physical barrier between you, your valuables and your loved ones and a would be attacker.
A determined assailant, who plans, will find a means of bypassing these deterrents and gaining access to a property.
In this scenario, any potential victim needs to ensure they can gain the time retreat to a safe haven to await help, without any fear of harm.
Our products are designed to provide the last and most critical level of protection, the last ring of defence. They are not only fitted on in external locations, they are fitted inside the home as well.
If your electronic deterrents are compromised, you will need a physical barrier to protect you, your family and belongings.
This is why Shield NW was formed and has been providing solutions for the many years across the UK.
What Our Customers Are Saying
Don't just take it from us, let our customers do the talking!
"We were really pleased with the door and the care taken not to damage any of the tiles surrounding the frame. The contemporary finish we required together with the strength of the door has left us extremely satisfied with the choice we made. Thanks for a great job."
Ian, Bury
"I just wanted to send my thanks on to you and to let you know how pleased I am with the work you have carried out over the last couple of weeks. These doors are the strongest on the market as you promised, and I can honestly say I haven't slept so soundly in years.."
Lawrence, Knutsford
"Further to our phone call last week I just wanted to extend our thanks in supporting 'Braniff' with our private client project.
The 'Shield doors' which were fitted were probably some of the best I have seen for this environment.  The quality, functionality and the over all look of this product, bridges a gap in the market where there are few suppliers.
Helen also added how professional, polite and discreet the Shield team were, which reassured the client they were receiving a quality service along with a quality product.
David I would like to thank you again for the service and product from 'Shield', and I hope we can work together again in the future."
Braniff Partnership Security Consultants – Lancashire/London
Don't Be Shy
If you have any questions, feel free to drop us a line anytime and we'll be happy to help.
Get In Touch